Thursday, February 22, 2007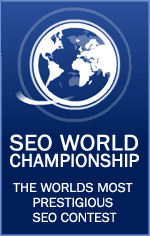 The US government party,
The Democrats
and its supporters will not be happy to find that an internet search on
Global Warming Awareness 2007
is leading to a pile of garbage. I say "garbage" because an ordinary surfer would be baffled by the websites' content that really has no relevant information on
global warming awareness
. Instead, most of the top 100 results (out of over 2.5 million results) on Google are all related to a recent SEO Contest called
SEO World Championship
. The challenge is optimize a site for the phrase "globalwarming awareness2007". And one of the rules is that the domain should've been registered on or after 15th Jan 07. Its been just over a month since the launch of the contest and a google search on the phrase
"globalwarming awareness2007"
already yields 1.33 million results ! Now thats a lot of combined SEO done ! This Q1's maximum revenue for domain registrars has got to be from this contest ! The contest presumably ends on On May 1st, 2007 since its on that date the rankings would be chacked to see which site scores the highest. We're looking at another 2 more months of heavy SEO and junk websites. Rule 1 of the contest is
Site must include either a SEO World Championship text link or a banner. (The banner may be linked or not linked)
If you take a random link from the first 100 results, you'll sure to find that banner/link. The last rule says
Website will not use SEO methods which are clearly not approved by Search Engine Guidelines for example: doorway pages, etc. See Google webmaster Guidelines. (Any participant ignoring the Google webmaster guidelines will not qualify for a prize)
. First point under Google webmaster guidelines'
Quality guidelines - basic principles
:
Make pages for users, not for search engines.
- LOL ! Not even one among the top 100 results are for users ! All were for search engines to compete for the #1 spot in rankings. So what will it take to get to see some real websites on Global Warming Awareness2007 ? This is a terrible blow to websites dedicated to global warming awareness 2007. This is a bigger challenge for webmasters of the dedicated sites.