Tuesday, September 26, 2006
Apart from my PIV 3.0 GHz HT
HP dc7100 desktop
(nothing really to brag about these days after the launch of the Core Duo and Dual Core based machines) and HP laptop, I got myself a multi-functional AOI printer-scanner-copier, a LightScribe Double-layer DVD Writer, a Canon PowerShot 4.0MP and a Sony CyberShot 6.0MP digital cameras, 2 pen drives, an external hardisk, an iPod Nano and a
Nokia 6681
(which I presented to my aunt) over a period of one year. For the past few months, I've managed to control myself in gadget-shopping...well, I finally realized that I've been draining all my income on gadgets and absolutely on nothing else ! But for the last few days I was thinking of finally getting a mobile phone for myself - the last gadget I wanted to get by the end of this year. So I pondered over the idea of getting
j
ust one more gadget within the budget.
Being a total gadget freak and keeping myself abreast of the latest
general technology
trends, I haven't owned a mobile-phone so far. Actually...I haven't owned any of the higher-end cool gadgets like a PDA or a tablet PC as well. Waiting for the right mobile to buy, I finally ended up with 2 choices:
Nokia E60
and
Nokia N73
, both of which weren't yet released in the market at the time of my decision. The dilemma I faced with, was that of the option of having a camera or not. The N73 is one of those dual-camera based phones targeted for the amateur entertainers, while the E60 is a camera-less phone targeted mainly for the business side of the world. The reason for me not wanting a camera mobile phone, is that I've already spent heavily (for an extremely amateur photographer like myself) on camera devices and don't want to spend again on another camera-based product. Both models are Symbian OS 9.1 powered and are more-or-less the same in terms of technical specs - ofcourse, the N73 was launched in '06 while the E60 in '05, so there obviously
is
an upgrade in the tech part for the N73 model, though the E60 has more in terms of shared storage.
Here is a basic tech-comparision between the 2 models.
 
Nokia E60
Nokia N73
Announced
12th October 2005
25th April 2006
Platform
S60 3rd Edition
S60 3rd Edition
Java
Browser
Regional Availability
Africa
Asia-Pacific
Europe
Africa
Asia-Pacific
Europe
North America
Latin America
Resolution
352 x 416
240 x 320
Color Depth
24bit
18bit
Shared Memory
75MB
42MB
WLAN
Memory Card
RS-MMC
Mini SD
After doing a lot of research on the net, on deciding which model should be on the top of the podium, I came across a Nokia design which is the design of their future mobile phone: Nokia 888. After spening hours
Googling Nokia 888
, I was totally in love with the design concept.
According to
engadget
,
The bracelet-like 888 is envisioned to use a liquid battery, feature speech recognition, a flexible touch screen, and a touch sensitive body cover. A video showing off the device's potential features shows off close to a dozen functions, including an alarm clock, PDA, GPS, phone, push email receiver, digital wallet and, of course, jewelry. And, other than the "liquid battery," we can actually see this in the not-too-distant future.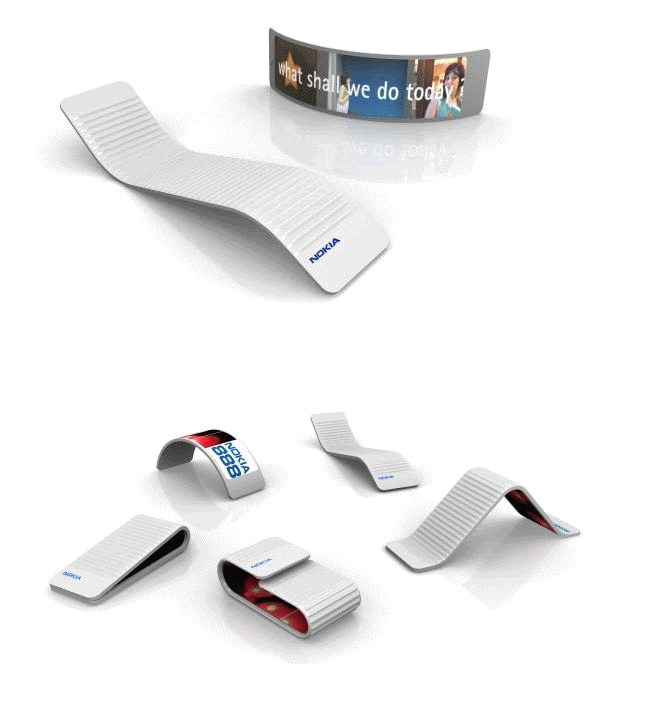 Uh...the SIM card providers should have a hell of a time making SIMs to fit the design's needs. Or could that too use a liquid SIM ?
As to what mobile model I am going to buy soon ? I think I'll wait just a wee liiittle bit more longer.......until I run out of patience !
More pics for the "time-passer":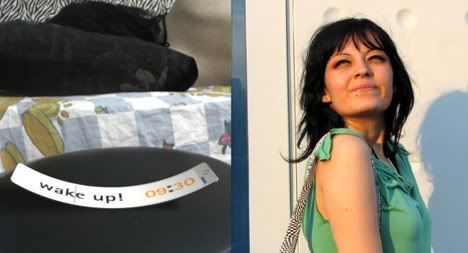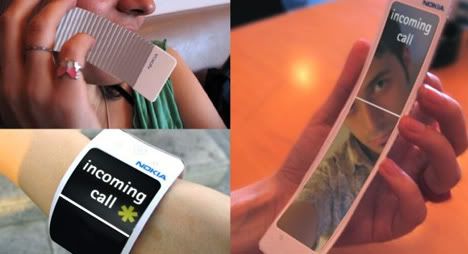 Video at YouTube: