Sunday, August 05, 2007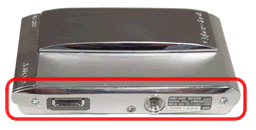 If you've got a Sony CyberShot DSC-T5 digital camera, chances are that the bottom casing of it is defective - enough to cut or scratch your finger. Even though the injuries reported by about 30 consumers were minor, one user had to get a surgery ! This only applies to users who have bought this in 2005 - 2006 period where the serial number falls in 3500001 to 3574100 range.

According to Sony :
"With certain DSC-T5 units, the metal plating peels away from the camera unit and warps outwards. Due to an irregularity during the initial part production, the adhesive strength of the metal plating declined. As a result, there is a small likelihood that damage to the bottom casing could cause the metal plating to peel and warp outwards."

Have it checked with any of the Sony-India Service Centers.
Related Links:
Sony India's Official Announcement.
dpreview: Sony recalls Cyber-Shot DSC-T5
CNET News: Sony recalls 350,000 cameras