Sunday, January 07, 2007
Last week has been hectic. My parents moved to a new apartment (oh...Im still living with them for the time being) very close to previous rented apartment in
Nerul
, Navi Mumbai, Maharashtra State.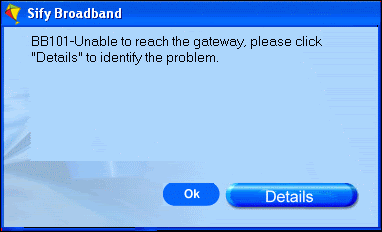 Internet is now an issue at the current location (even though its just a couple of lanes away from the old location - 2 sectors away to be precise) since my most-wanted-ISP, YouTeleCom, doesn't seem to have the coverage. Currently using Sify, one of India's major ISP providers, at 256kbps. Im not so sure if they are doing this to avoid piracy or something, but the upload limit for all schemes is capped to 64kbps and quite often I get the message
Your session is over. Please Login again
! So long use of uninteruppted internet connectivity is just impossible. Morevoer, the oscar winner of all error messages
BB101 - Unable to reach the gateway
is probably best suited for those stress
in
tolerant people. Sify ISP's error messages will either
replace
Yoga or will
lead
to Yoga - either one is bound to happen - but definitely not both. Maybe Sify is on the way to pioneering the next YouTube. An Internet Junkie is a person who needs to be online all the time [
Computer Networks
, Andrew Tanenbaum]. One thing is for certain - you can never be an Internet Junkie using Sify ISP. That should be good news for parents of school-goers ! Nevertheless, this now gives a lot of forced-offline-time. More interesting, there is even a blogspot blog on Sify Broadband :
sifybroadband.blogspot.com
! Other available broadband providers in this Navi Mumbai : In2Cable, Pacenet, MTNL and Exatt (not available in all areas).