Thursday, December 28, 2006
Lets see whats hot & in-demand by this year end. Im talking mostly about IT jobs and experienced and 2 of these sites (Naukri and MonsterIndia) are specific to India. These were the criteria I set for each site's search :
| | |
| --- | --- |
| Naukri | : Min 3yrs Exp |
| Hotjobs | : 2-5, 5-10 yrs Exp |
| Dice | : Nil |
| MonsterIndia | : Min 3yrs Exp |
| RentACoder | : All not-yet-expired projects |
While the first 4 are job board sites, the 5th one,
RentACoder
is a site dedicated to outsourcing work. I wanted to pick one that isn't a job board but has similar requirements. These do not reflect accurate values and definitely will have errors since the search were based on keyword-search and there was no way to know if the job posting actually had a requirement in that specific domain. Hopefully, each site's search engine has given much-relevant results. I've grouped these graphs based on various field, since theres point comparing ASP with Maya. Some of the graphs displayed below compares the percentage each value contributes to a total across categories.
Programming for the Desktop
: C is defintely has more results when compared to others. [The next graph shows the result without the graph] and Java is high in number.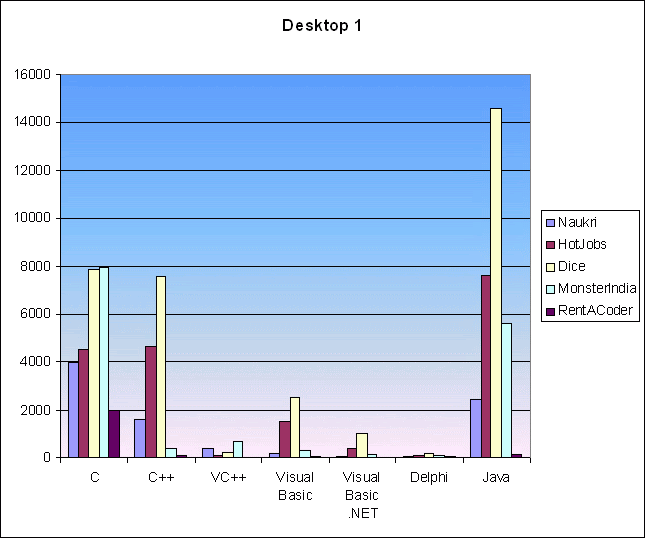 Programming for the Desktop
: This one is the same as above "Programming for the Desktop" but without the
C
keyword since 'C' is misleading in many of the search results. Its clear that Java totally takes the lead. Its interesting to note that there are quite a number of outsourced projects required in Delphi while the job posting is very less
when compared to other requirements for the same job site
. Just to make it clear, the value for Delphi is 45 at Naukri, 73 at HotJobs, 160 at Dice, 68 at MonsterIndia and 35 at RentACoder.
Web / Internet Technologies
: This one should be the most interesting one at this time of the century.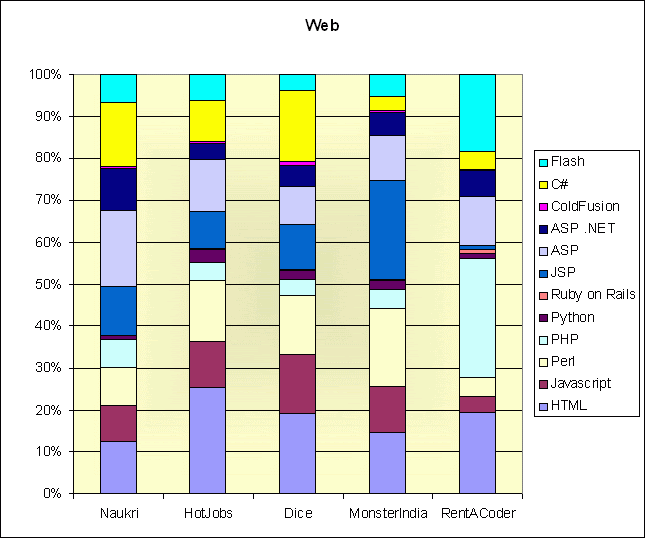 PHP may be in-demand, if you club ASP, ASP. NET and C#, you'll notice that Microsoft languages are defintely more-in-demand. Two of the new languages, Python and RoR (Ruby On Rails) probably will pick up in another year's time. Well....you can further analyse for yourself.
Database
: Oracle is defintely the most-wanted for salaried-people but not much outsourcing work. Guess only coorporates could afford Oracle requirements and resources.
Mobile
: Symbian C++ should've been used instead of just Symbian, since Symbian is an OS but I've taken Symbian as a platform here on lines with J2ME and others - not merely as a programming language. J2ME relies on the Java language.
Brew
is again a platform on which developers can code in C, C++ or Java.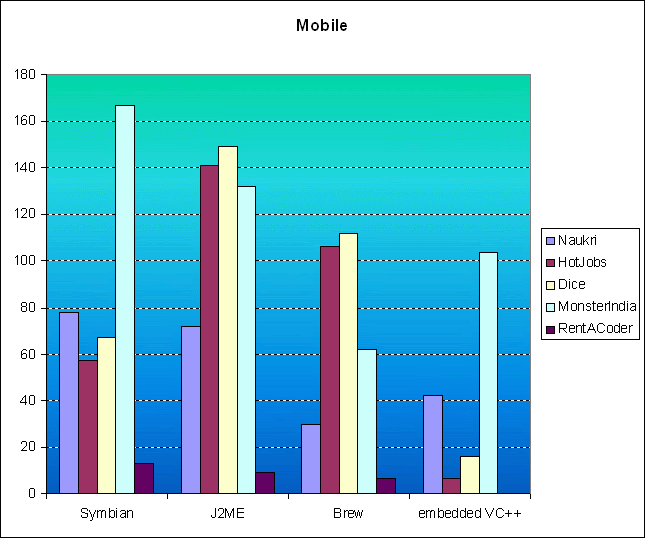 Operating System
: I split Unix and Linux for the reason that these days people are specifically talking about Unix and Linux separately.
3D Graphics
: Maya and 3D Studio Max have always been on top for a long time now.
Others
: SAP is in
great
demand.
Overall, these are nice looking graphs with excellent textures, fill-patterns and gradients :). 2007 should be a great year for Human Resources in the IT industry.